Virtual Villagers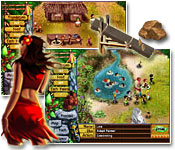 Virtual Villagers is one of the hit games in the gaming portals at the moment. The game graphics are pretty good, the user interface is pretty good, and the game atmosphere is nice. The game mechanism is (technically speaking) simple: you drag & drop and click some buttons, and game continues. Behind the mechanism is hidden a huge database of elements: your villagers can do lots of different stuff, learn new things and so on. When I first tried the game I asked "where's the actual game" – but I suppose that's one of the key factors for people playing simulation games. To get to "play God" in games is pleasing in itself, even though there would be missions or even levels in the game. Lesson: having a really fun game is much more important than just having a really great graphics – at least for casual games.
Virtual Villagers – The Lost Children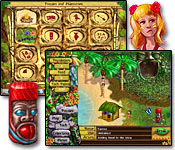 What happens if you make a hit game? You naturally publish a sequel: the developers continued with Virtual Villagers – The Lost Children. Now they made another Virtual Villagers game, but this time with added elements that continue the epic story. If you try the second part of the game (that's being sold at full price) you might see that the game mechanism is pretty much the same as in the first game, but they've added lots of new elements. This is exactly the way how brands can be used to leverage sales: when people are addicted to your product, you give them more to purchase.