To play Azada – download it from here.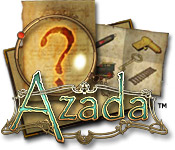 As soon after I've asked for more innovation for casual games there comes a game that really nails it: Azada is not only the best selling game at the moment, but it also contains over 40 unique puzzles. Not just "different levels" like you can see in most games, but different puzzles.
Basically Azada's is like several games in one package – and in my opinion that's a really fresh view on casual clone wars. They launched yesterday, and in less than two hours, Azada had smashed the full release days of both Mystic Inn and Atlantis Sky Patrol. According to BFG, Mystic Inn sold 2000 copies in a few days so it looks like these guys have another hit game at their hands.
Those who want to check out this polished (and really fresh game in the casual space), download Azada from here.