To play Azada – download it from here.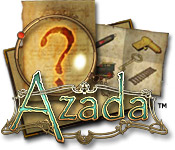 Before going into details, I must add that the following sales stats are all speculation. They are not 100% correct – they are just estimations. I base these numbers on pieces of information I've received from different websites – including the Big Fish Games press releases. I believe my estimation should give a some kind of picture about how much Azada has sold in the first month after the release.
AZADA SALES ESTIMATION:
Estimated sold copies: average 500 per day (from Big Fish Games portal)
Price: $20 (or $7 with game pass).
Estimated average price: about $17 (assuming 25% of buyers use game pass)
Total estimated income: $250,000 (in the first month after the release)
Downloads: 600 000 in first two weeks, estimated 1 000 000 downloads in the first month
Estimated conversion rate:1.5%
According to the Big Fish Games press release Azada averaged about 43000 downloads in the first two weeks. Direct quote:
Since its debut two weeks ago, more than 600,000 people have played Azada on Big Fish Games' site alone, making it one of the best selling games of 2007.
I've also heard developers telling that Azada smashed both Mystic Inn and Atlantis Sky Patrol in the first hours after the release. According to older BFG press release, Mystic Inn game sold more than 2000 copies in the first three days.
From these numbers we can estimate, that Mystic Inn averaged about 700 sold copies per day after the release. Here are conversion rate examples:
With conversion rate 2% would be 35 000 downloads for Mystic Inn (which sounds quite high CR – but not impossible)
CR 1.5% would suggest roughly 47 000 downloads for Mystic Inn (which is close to how much Azada was downloaded)
Conversion rate 1% would mean 70 000 downloads for Mystic Inn (which is unlikely, since Azada beated Mystic in)
with CR 0.5% it would be 140 000 downloads for Mystic Inn (here CR seems quite low, and again the download number too high compared to Azada)
With this data at hand, I assume Mystic Inn could have conversion rate around 1.5% – 2.0% – since Azada averaged 43 000 downloads and was said to perform better than Mystic Inn. Azada was reported to perform better than Mystic Inn, so it might have this quite high conversion rate of 1.5%.
Naturally we don't know if they mean downloads or sales when they said "performed better", but in this speculation let's suppose Azada won in both figures.
Now there's one big factor we must take into account: the game price. The normal price is $20, but there are lots of people who can use BFG game pass to get the game for $7. I have no information how many people use game pass (I believe it can be anything from 10%-50% of buyers – or I can be totally wrong – and this will make a big impact on the profits). I make a wild guess and suppose that 25% of the buyers use game pass. This means that for every 100 units sold, 75 are sold for $20 and 25 units are sold for $7. Total revenue for 100 sold units is then it means that average game price is less than $17.
Since Azada was downloaded average 43 000 times per day (and it was better than Mystic Inn) and with 2% conversion rate it would mean 860 unit sales per day. With $17 revenue per sold copy that means $14 620 per day. Or $438,600 in one month.
Azada stayed long in the top 10 ten (at the time of writing it's still number one) so we might assume that it has been downloaded a lot after the release. If we assume 43 000 downloads per day, then it would mean 1 290 000 downloads in a month. By taking into account that BFG portal receives 25 million monthly unique users, this figure is possible to reach.
If we take a very low assumption – an unlikelyassumption – (CR 1% and the downloads would go down and average 20,000 downloads per day) we can still see that Azada would sell 200 copies a day (which again seems very low number). That's $3,400 per day – making it $102,000 per month.
With these "maximum" and "minimum" ranges known, we might think that the download number went down a bit after the release, and assume that 1 000 000 people downloaded the game in the first month. With 1.5% conversion rate, this would mean 15 000 sold copies in the first month. With average price of about $17, this would mean about $250 000 sales.
Bottom line
As said, this is all speculation and exact numbers are only known by the portals and the developers. Perhaps the real number goes somewhere around $200K – $300K sales for the first month, or perhaps they are something else. The fact that Azada has stayed first on the top games charts for a long time and the fact that Mystic Inn was reported to sell about 700 copies a day (which Azada beated) supports these numbers. If the conversion rate is 1.0% for Azada, then the conversion rate for Mystic Inn should be around 2% – which again seems unlikely.
Whatever the exact figures are, it's good to see Azada showing how a new innovation and heavy marketing vehicle can help game to sell in the $100K range in just one month.