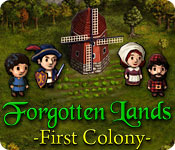 Forgotten Lands: First Colony is a neat "little" strategy game that's just been published. I haven't tested nor played many casual strategy games, but a quick glance in them reveals that they all have something in common: they somehow resemble hardcore strategy games (such as Civilization or Age of Empires or Settlers), but overall they are made simpler and easier to approach.
This doesn't mean that these games would be worse or "less strategic". Even though casual strategy games might be in the light-weight series, they can provide fun for hours. In many casual strategy games the graphics are well done (at least most of the games I've tested – although Forgotten Lands might not be the best example here), the games feel polished, and they often provide helpful tutorials and tell user step-by-step what to do.
And the fact that you can get this game for $6,99 (as a Big Fish Games club member) makes it pretty sweet deal.
Try Forgotten Lands: First Colony. It gives a pretty good idea how casual game developers are turning strategy genre into casual one.