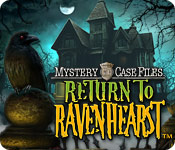 I checked out system requirements for the new Big Fish Games product: Mystery Case Files: Return to Ravenhearst (which can be bought for as low as $6,99 – see info here). This game has low system requirements (Window, 800 Mhz, DX 7.0), but the file is is 290 megs (and about 90 megs for the demo).
I'm pretty sure Big Fish Games knows what they are doing here, so I suppose the "good old 20 meg file size limit" can be forgotten. If 90 meg demos are fine, and 290 megs full versions okay, I think we developers can stop worrying too much about the file sizes of downloadable games.
Mystery Case Files: Return to Ravenhearst looks pretty good, and if you want to get 50% discount on the price, please use coupon code RAVEN50 (available until 27th of December).