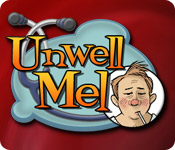 Jake let me knew about his latest game, Unwell Mel. It has climbed the BFG charts and is now on 14th (+7 higher than yesterday I believe).
The game looks polished, has a funny theme and has ideas worth stealing (for example: there's no map, instead you "cure" Mel as you complete levels). Good job on the game and hopefully the game climbs even higher in the top sellers list.
I hadn't really paid too much attention to Match-3 type of games, but looks like they can still be pretty good sellers (that's another thing worth considering for anybody who is into game making).
Take a look at the Unwell Mel.